"What People Suffering From Chronic Pain
And MANY OTHER Health Disorders
Ought To Know About Acupuncture."
How To Gain Your Health Back With A Natural, Safe, Effective & Drug Free Alternative.
Hello, my name is Ivelisse DeJongh. I'm a licensed and board certified Miami acupuncturist providing the residents of Miami with gentle and painless acupuncture therapy for pain and many other conditions.
I want to welcome you to my Miami acupuncture website where you will find a wealth of information to help you learn how acupuncture can work for you. You'll also be glad to know traditional Chinese medicine has been around for more than 3,500 years allowing people to heal naturally without the dangerous side effects of prescription drugs.
Did you know that:
More than 12 million Americans have used acupuncture
Scientific studies have confirmed the efficacy of acupuncture for health problems when conventional medicine has not been effective.
Acupuncture has been around since the early days of civilization.
To get my FREE Report titled: "Acupuncture For Skeptics" just enter your name and e-mail address below and I'll e-mail it to you right away.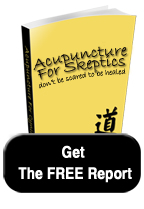 I want to thank you for visiting my Miami acupuncture website and would like to offer you a coupon for a FREE Initial Consultation ($75 value.) Just click on the coupon to download it now.
If you or any family member are ever in need of my services just bring in the coupon on your first visit. There's no obligation and no pressure to purchase a treatment. It's just a way for you to come in and meet with us to see if acupuncture can help you. If for any reason I feel I can't help you I will tell you on the spot and recommend another alternative.
If you have any questions or need additional information please send us an e-mail or call us at 305-677-3214. We are here to help you with your health care needs.
In Health
Ivelisse DeJongh
Miami Acupuncturist